* Struck
It's common knowledge my line of work is nothing more than a glorified "You want fries with that?" customer service position. What isn't so widely known is that on occasion the opportunity to interact with local Cleveland television, print, and sports personalities arises.
No, I didn't attend LeBron's birthday bash. Stop asking for photos. Besides, the man deleted me from his friend list on MySpace. True story.
Back to the subject at hand.
So far I've emailed, made witty banter, or have been photographed with the following (Witty descriptions are expected; who am I to disappoint?):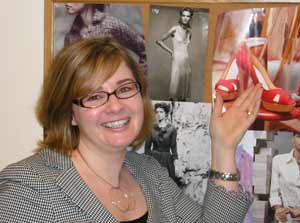 Kim Crow
, Cleveland Plain Dealer Fashion Editor. Ms. Crow featured my mug and questionnaire in the Sunday edition of The Plain Dealer shortly after David and I moved to town.
Tim White
, WKYC News Anchor. Tim was rather pleasant and laughed politely at my jokes. I (almost) feel awful saying this; in his case, the camera takes
away
ten pounds. Makeup and lighting really
are
everything. Never doubt.
Kenny Crumpton
, FOX News Personality. Kenny can be seen "kickin' it" around our fair city. I got nothing but love for Kenny.
Kelly Butler
, Offensive Tackle for the Browns. I believe Kelly was not ready for my jelly. A bit standoffish.
Anderson Varejao
, Power Forward for the Cleveland Cavaliers. This. Man. Made. My. Knees. Weak. His smile was genuine, and the fact that I had to crane my neck up another two feet to make eye contact helped the giddiness. This man treats his fans well. Sigh. I know. But I can dream.
I've also met a few of the bachelors featured on an episode of
Inside Edition
last year. Nothing but yum.